​Buyer's Guide: Factory Specs For The Polaris General Tire Size, Wheel Size, Wheel Offset, And Bolt Pattern
Nov 1st 2022
The Polaris General was released in 2015, and the vehicle underwent some serious changes in 2020. But one thing has remained consistent, and that is the stock Polaris General tire and wheels. With the Polaris General 1000 Spot being an outlier, all the other models and editions of the Polaris General come with the same tires and wheels. So without further delay, here are the factory specs for the Polaris General tire size, wheel size, wheel offset, and bolt pattern!
Factory Tire And Wheel Specs For the Polaris General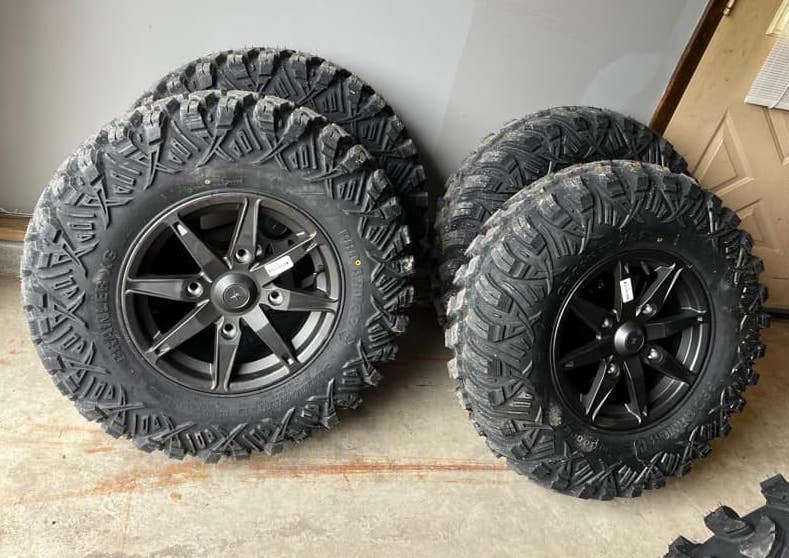 Before we get into the differences between the stock tires and wheels on the various Polaris General models, we'll first touch on the factors that are congruent between them. All Polaris General editions use wheels with a 4/156 lug pattern. And in addition to this particular bolt pattern, Polaris General vehicles also come with 12mm x 1.5 splined lug nuts. Although these splined lug nuts do require a special wrench adapter, the spline drive key is not unique, and therefore does not act as a theft-prevention measure. Rather, the splined lug nuts used to secure the factory Polaris General wheels to their respective wheel hubs are designed to sink into the recesses of the wheel face so that they're better protected from damage.
As far as backspacing is concerned, most Polaris General models come stock with 6+1 wheels. For the Generals that come with Maverick D9289 wheels by Fuel Offroad, the backspacing is 4+4. These backspacing measurements, however, aren't totally standardized, and they're not as accurate as using the offset measurement. On vehicles with 15x7 rims, the wheel offset is 55mm. On vehicles that come with 14x6 wheels in the front and 14x8 wheels in the rear, the offset measurements are 26.2mm and 50.1mm respectively (which roughly equates to 4+2 and 6+2).
Polaris General 1000 Sport Tire And Wheels Specs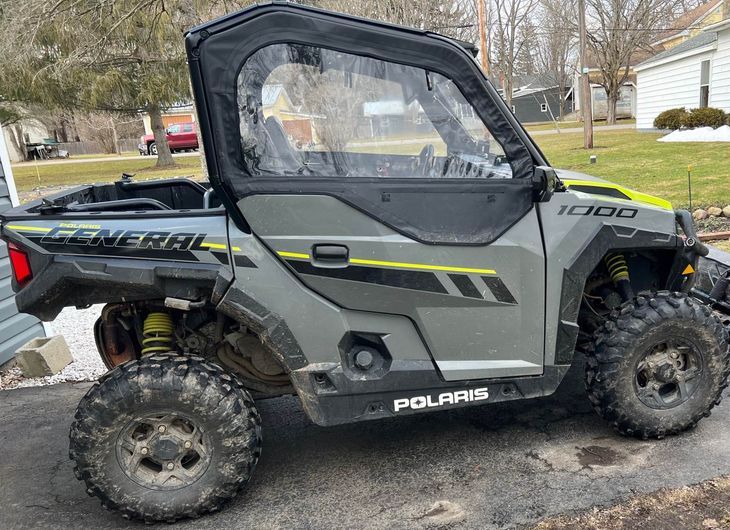 The Polaris General 1000 Sport comes with CST Clincher tires that measure 27x9.00R12 in the front, and 27x11.00R12 in the rear. The stock General Sport tires are labeled as NHS, which stands for Non-Highway Service. As such, they're made strictly for off-road use, and cannot handle the speeds, heat, and other stresses associated with on-road use. Where rims are concerned, the Polaris General 1000 Sport comes with 12" aluminum wheels.
Polaris General XP 1000 Tire And Wheel Specs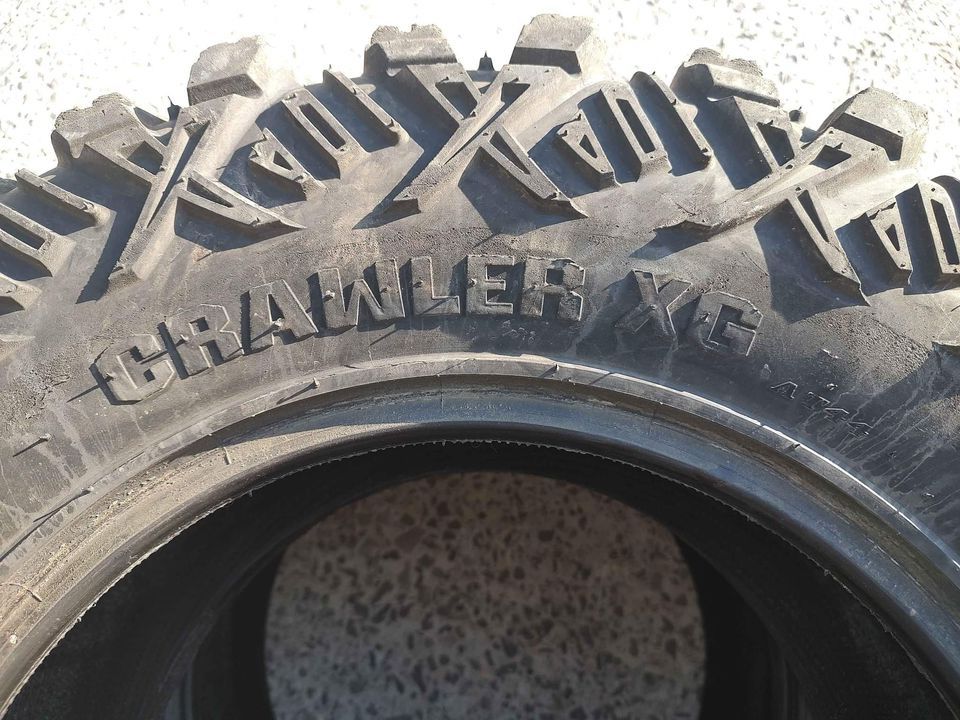 Everything from the Polaris General XP 1000 Sport and Polaris General XP 1000 Premium to the Polaris General XP 4 1000 Ultimate and all other 4-door General editions come with 30" tires and 15" aluminum wheels. The width of both the front and rear tires is 10", and they can be either Pro Armor Crawler XG / XGF tires, or ITP Ultra Cross R Spec tires.
OEM Polaris General tires are quite thick, measuring in at 8-ply. Because of this, they're able to handle rugged terrain full of fragmented rocks, sharp stumps, and other hazards. Furthermore, their thick sidewalls allow for low deflation, which improves traction when crawling!
Switching To Aftermarket Polaris General Tires And Wheels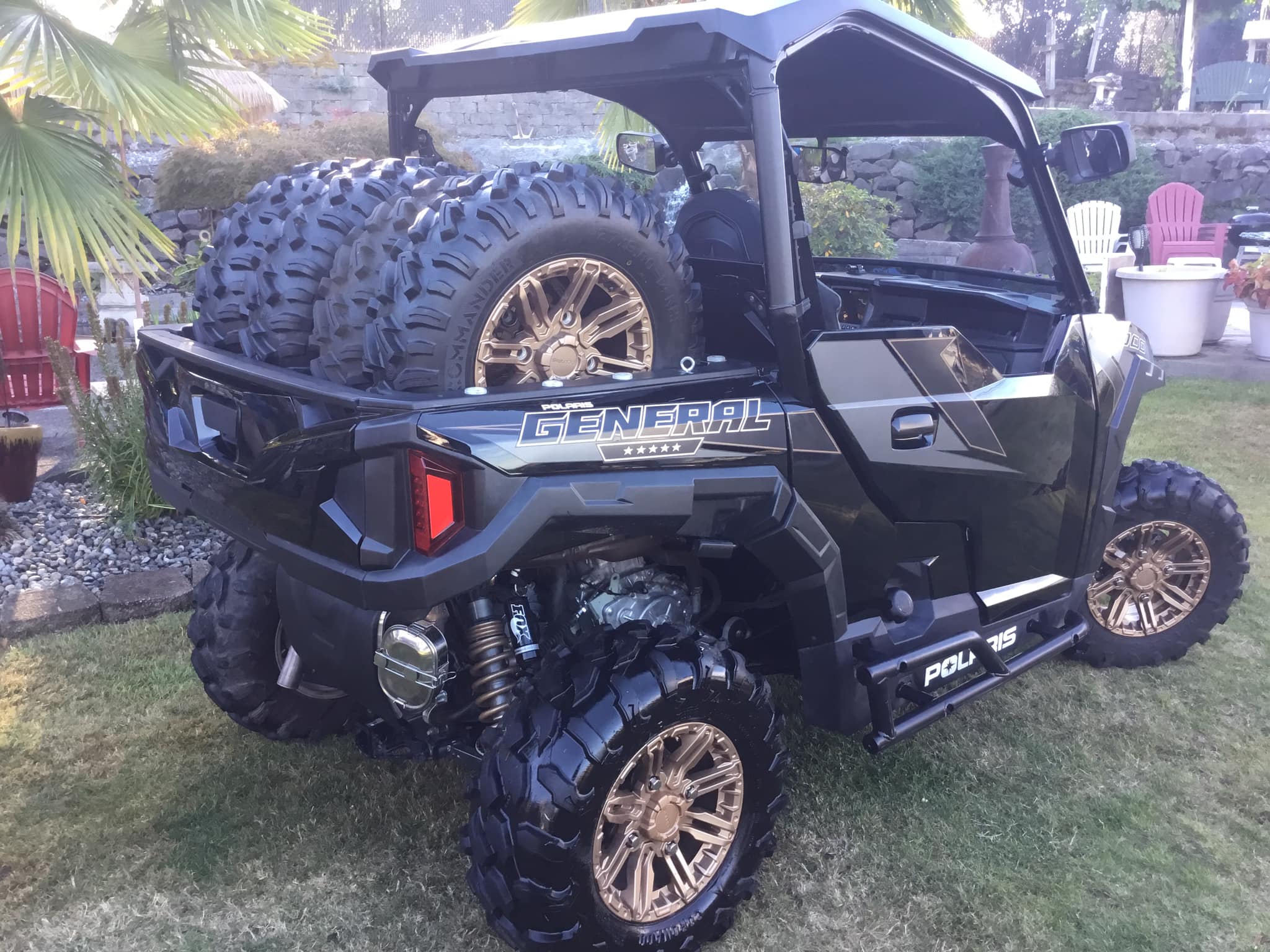 Unless you wish to use wheel adapters, you'll want to stick with the stock 4/156 bolt pattern when opting for aftermarket Polaris General wheels. Some riders choose to run the 29x14 Bighorn tires or the 29.5x9.5 Outlaw 2 tires from the Polaris Ranger XP 1000 on their Generals. The stock XP 1000 rims have a different offset than the stock General rims, and will make your rig around 2" narrower. Even so, they still clear everything, including the brakes!
To go bigger in tire size, all that's required are offset wheels (that is, for 32" tires). Alternatively, you can also install lift kits or forward a-arms to make room for bigger tires / rims. You don't necessarily need to do any clutch work if you install bigger tires, but it's advised that you upgrade the secondary clutch spring at the very least so that you don't lose any power on either the low or high end.
The stock clutching is fine-tuned for the size and weight of the stock Polaris General tires and wheels. Change those and you run the risk of smoking the belt while going slow, climbing hills, or pulling loads. Why suffer from a shorter belt life, less performance, and lower capacity when aftermarket Polaris General clutch kits are easy to both procure and install?