​Buyer's Guide: A Comprehensive Look At Roofs For The Polaris General
Jan 16th 2023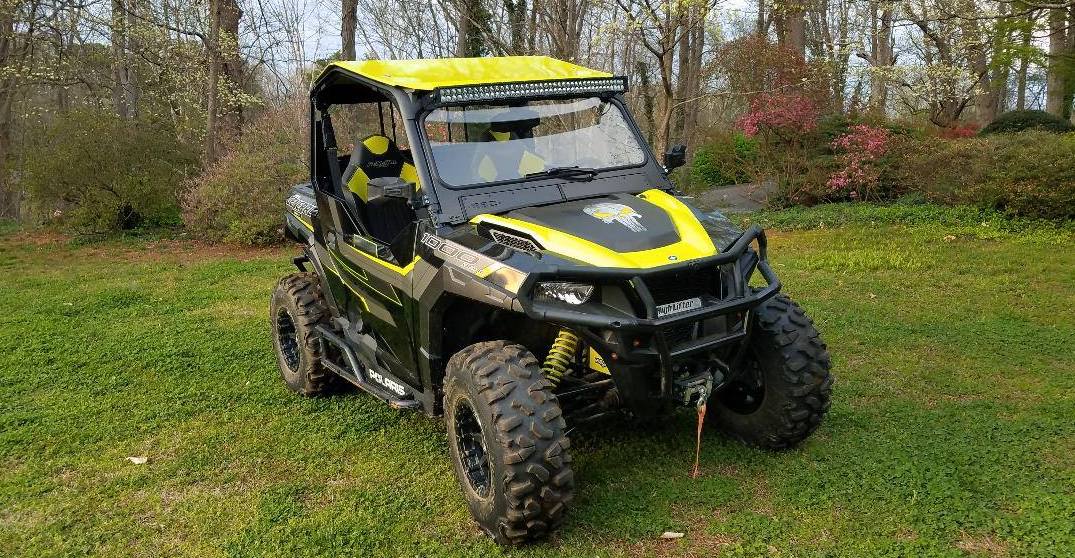 The benefits of Polaris General roofs are obvious; they provide shade when it's sunny, shelter when it's rainy, and insulation when it's cold! But in addition to climate control, there are other reasons why you might want a particular type, style, or brand of roof on your side-by-side. Polaris General hard-top roofs, for example, are a great platform for everything from Polaris General roof racks and roof speakers to Polaris General overhead gun racks and rooftop tents. Polaris General soft tops, on the other hand, are much lighter than their hard-style counterparts, and they're significantly cheaper than both metal and poly roofs. If you know exactly what you're after in a Polaris General roof, we hope this buyer's guide will direct you to an appropriate product from a trustworthy brand. Or if you're not sure about the type of Polaris General roof you want, keep reading to learn more in this comprehensive look at roofs for the Polaris General, the Polaris General 4, and the Polaris General XP!
Polaris General Hard Tops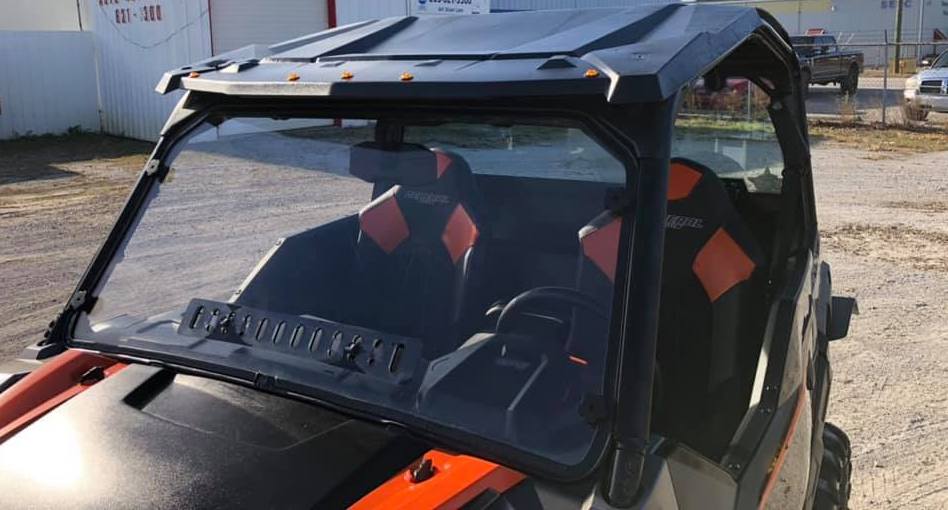 When it comes to hard roofs for the Polaris General, you've got two basic categories to choose between: metal roofs and plastic roofs. Within each of these two categories, however, there are additional subcategories. Each has their own set of strengths and weaknesses, and some are more suited than others for particular applications.
Polaris General Metal Roofs
As far as metal roofs go for the Polaris General, the two main options are steel roofs and aluminum roofs. Because they have a higher strength-to-weight ratio than steel roofs, aluminum roofs are the go-to for most aftermarket Polaris General part manufacturers. Companies like Thumper Fab make incredibly well-built tops for the Polaris General that include everything you could ever want or need in a roof – from interior / exterior lights and audio equipment to built-in roof racks with customizable accent panels! Thumper Fab roofs are expensive no doubt. But for those who refuse to settle for anything less than the best, a Thumper Fab roof won't disappoint! For a cheaper and less-flashy aluminum roof option, we'd recommend the low-profile hard top by Moto Armor. This aluminum Polaris General roof is tough and sleek, and it even comes with an optional tinted sunroof!
Polaris General Poly Roofs
Moving on from metal roofs, the other type of hard tops for the Polaris General are plastic roofs (AKA poly roofs). The primary materials used to build poly roofs are polycarbonate and polyethylene. Polycarbonate is the same material used to make off-road windshields, and it can even be tinted -- like the polycarbonate roof options by SuperATV -- for the perfect amount of in-cab illumination without too much sunlight. Unlike polycarbonate, high-density polyethylene is not see-through. It is, however, extremely resilient, and it can be molded into unique shapes designed specifically for aerodynamics, water drainage, or storage. The Polaris General 1000 Cooter Brown Top roof by EMP, for instance, incorporates molded-in side gutters to channel water out and away from the vehicle.
Polaris General Soft Tops
Hard roofs are great, but they're not always required. Something simple and elegant like the mesh shade roof by MotoRoof is enough to keep you cool and prevent your bald spot from becoming sunburnt, while still giving you that open-air feel while riding. When it rains, though, you'll probably want a soft top like the Nylon Polaris General Roof Cover by Greene Mountain Outdoors to stay dry. Both of these roofs are cheaper than any hard top you'll find, and they're equally capable of holding up against wind and dust – pointy tree branches and sharp rocks, on the other hand, are a different story!
Polaris General Roof Accessories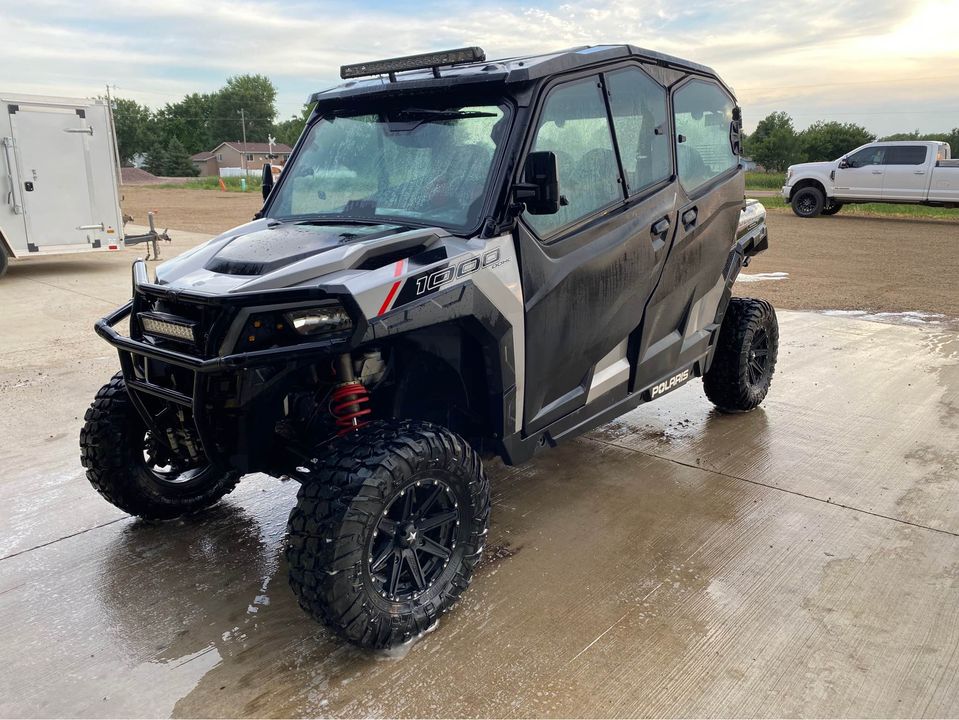 Whether you decide on a soft Polaris General XP roof or a hard Polaris General Premium roof, you still might want some roof-related accessories for greater visibility, added comfort, and extra convenience in the field. Many riders like to run roof-mounted light bars, but you've gotta make sure you get the right light bar mounts if you're also using a folding windshield. Rooftop speakers are also common, and so too are under-roof gun mounts. But because they occupy the same space, it's difficult -- if not impossible -- to use both simultaneously!
All of the roofs at Everything Polaris General are water tight. But if you went elsewhere for a roof and are experiencing leaks, we can straighten you out with a Polaris General roof seal kit. Whether it's a new roof seal, a roof liner, or a waterproof Polaris General roof bag that you're after, when it comes to roofs and roof-related accessories for the Polaris General lineup, the place to go for the best products at reasonable prices with fast shipping times and an unbeatable return policy is Everything Polaris General!